SAENA has reduced work activity due to the measures for the containment of the Covid-19 emergency. Our team remains healthy and safe at home to minimize the potential spread of the COVID-19 virus following the Italian Government and Campania Region mandates and recommendations. Please accept our apologies in advance for any delay we might be facing to answer your e-mail. Thank you for your kind attention and please stay healthy and safe.
Our engines will come back roaring soon.
---


15th International Conference on Engines & Vehicles
Capri, Napoli (Italy) September 12-16, 2021
ICE2021 is organized by SAENA, a section of SAE International, in cooperation FKFS (Research Institute of Automotive Engineering and Vehicle Engines Stuttgart- Germany) and STEMS (Institute of Science and Technology in Energy and Sustainable Mobility - Naples,Italy), the brand new Institute powered by our institutional partner IstitutoMotori-CNR of Naples (Italy).
Prospective authors are invited to submit abstracts of 300 words or less for review by the General Committee.
Abstracts will be submitted on-line and managed by the SAE International.
Upon submission, the paper tracking number will be sent by email.
Paper acceptance will be based on organizer moderated peer-reviews of review-ready manuscript.
Authors should prepare their papers according to SAE International format.
For additional information, please contact ICE2021 Secretary by email and/or visit ICE2021 website

DEADLINES
Abstracts due to SAE: March 15th, 2021
Draft Manuscript due to organizers: May 3rd, 2021
Final Manuscript due to SAE: July 08th, 2021
Hybrid and Electric Powertrains & Eco_CAV

Advanced Hybrid and Electric Vehicle Powertrains

Controls for Hybrids and Electric Powertrains

Advanced Fuel Cell Vehicle Applications

Range Extending Engines

Energy storage

Energy efficient Automated Vehicles

New Engines, Components, Actuators, & Sensors

CI & SI Engines Technology

Engine NVH

Thermal Management

Engine Boosting Systems

Alternative Engine Architectures

Enabling Technologies

Engine Combustion

Combustion In Spark Ignition Engines

Combustion in CI Engines

HCCI/PCCI/RCCI/DF

Combustion in Gaseous-Fueled Engines

Abnormal Combustion Knock, Preignition SPI and LSPI

Emissions and Emissions Controls

Exhaust Emission Control Systems

Emission Control Modeling

Emissions Measurement and Testing

Particle Emissions from Combustion Sources

Low Temperature Catalysis

Engine Modeling and Controls

0-D and 1-D Modeling and Numerics

Multi-Dimensional Engine Modeling

Combustion and Flow Diagnostics

E

ngine Management and Control

Fuels and Lubricant Technologies

Fuel Injection and Sprays: Modeling

Fuel Injection and Sprays: Experiments

Alternative and Advanced Fuels

Automotive Lubricants
CONFERENCE CHAIRS: Prof. Dr. Ing. Michael Bargende (FKFS) & Dr. Bianca M. Vaglieco (STEMS)
CONFERENCE ORGANIZERS Dr. Eng. Silvana Di Iorio & Dr. Eng. Ezio Mancaruso (STEMS | SAENA)
---
Premio Formula SAE 2019-2020

La SAE-Naples Section intende supportare i team di Formula SAE ed emana il presente bando per assegnare un premio in denaro ai team che abbiano partecipato alle manifestazioni sportive e dato ampia visibilità a SAENA nel corso del 2019 e 2020. La scadenza per la presentazione delle domande di partecipazione è il 6 settembre 2021. Per info e dettagli clicca qui
---
Premio Tesi di Laurea 2020
I due vincitori del "Premio Miglior Tesi di Laurea 2020" sono Francesco Penza (Politecnico di Bari) e Marco Piras (Università degli Studi di Napoli Federico II), premiati con un bonifico di euro 500 ciascuno e la partecipazione gratuita al convegno ICE2021.

SAENA Webinar - presentation of the new SAE book:
SAENA is glad to invite you to the Webinar - presentation of the new SAE book "1D and Multi-D Modeling Techniques for IC Engine Simulation" taking place online next June 16, 2021 at 17.00 (CET). Click here to join the webinar for free!

For further info, click here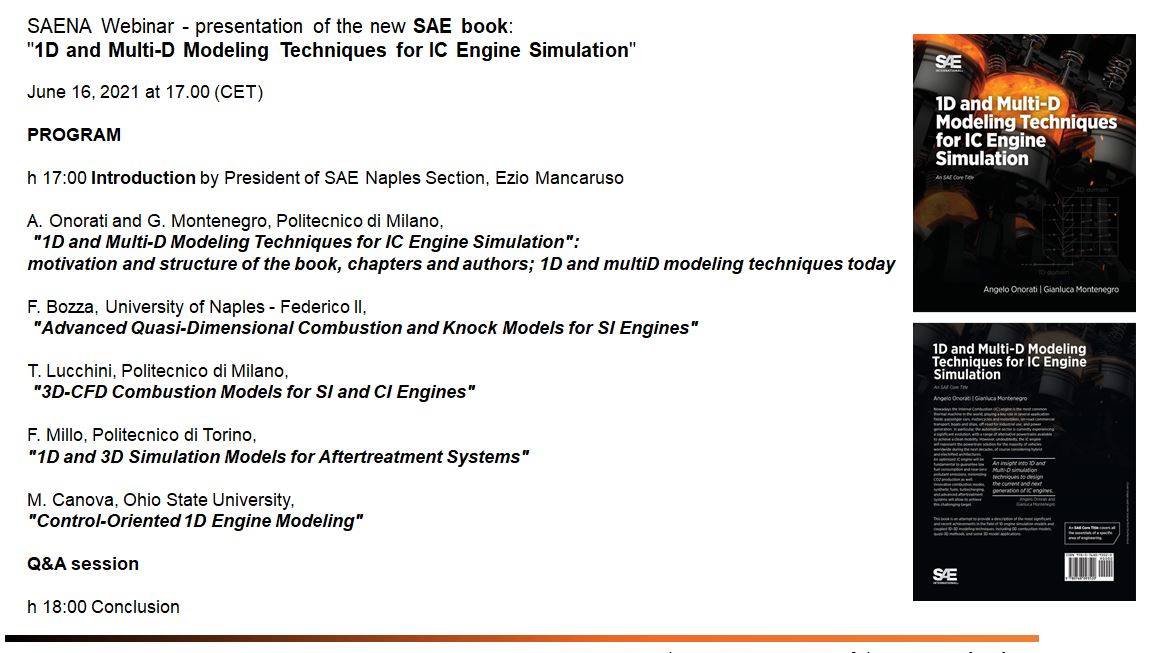 SAENA sulla rivista di SAE International UPDATE
Sul numero di Agosto 2020 di Update, parlano di noi a pag 15 e 16, buona lettura!
Forest R. McFarland Award 2020
Siamo orgogliosi di informarvi che i nostri soci Stefano Fontanesi (Università di Modena e Reggio Emilia) e Michele Battistoni (Università di Perugia) sono stati insigniti del prestigioso premio Forest R. McFarland Award 2020, congratulazioni!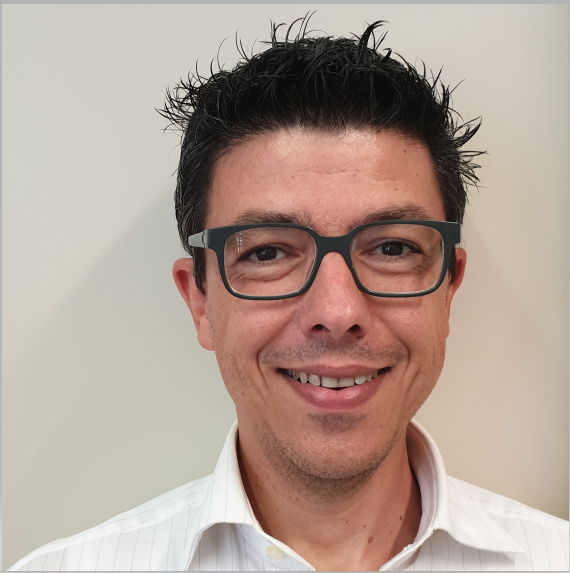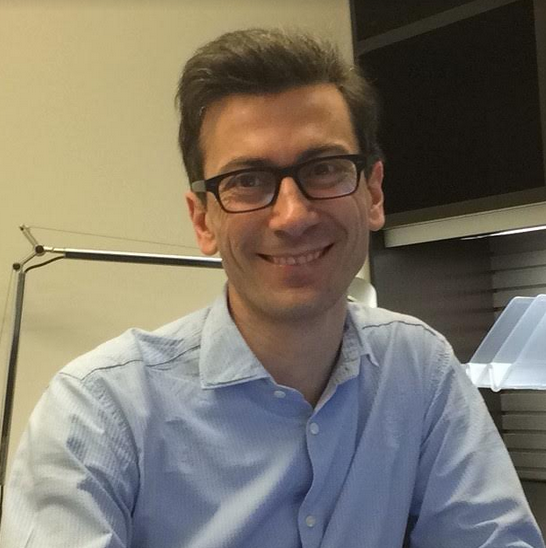 ICE 2019
Click on image to open large picture

Thank you to the participants, speakers, plenary lecturers, chairpersons, and organizers for the great success of our 14th International Conference on Engines & Vehicles - ICE2019 supported by SAE Naples Section and Istituto Motori-CNR.
We wait for you to the next edition in 2021.




14th International Conference on Engines & Vehicles
Capri, Napoli (Italy) September 15-19, 2019
---